Helping People Find A Qualified Dog Breeder In Their Area
Adding a dog to your family is one of the most exciting things you can do. Millions of people do it everyday. Dogs can be your best friend, a loyal companion and share many many years with you. Your dog will grow to become one of the family and the memories you make together you will cherish.
The start of that journey begins with finding the right dog breeder. Just as a poor dog breeder can affect puppies in a negative way, a great dog breeder will build a strong foundation of love and care so that your puppy thrives in its new life with you.
Finding a good puppy breeder should not be understated. A dogs first few weeks are vital in its development. It can determine their behavior for years when the dog is in your possession.
This is why we have built DogBreederUSA. A directory that will connect you with qualified dog breeders who will provide the best care for your puppy so that your dog is the strongest it can be when it joins your family.
Finding a dog breeder can be difficult, but we hope to connect you with some of the best so that you can add that new member of your family as soon as possible!
How To Find Reputable Dog Breeders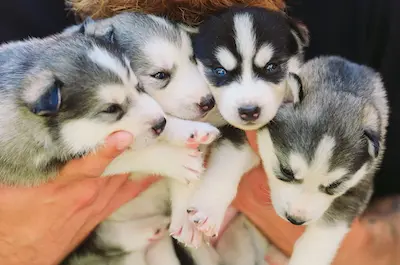 Searching for a reputable dog breeder can be a tricky en devour. If you want a specific dog breed that is a bit more uncommon finding a breeder can be even a bit more difficult. If you are flexible on the breed that may simplify the process. Whatever the case may be you want to run a few checks to make sure they are reputable.
We'll discuss certified and licensed dog breeders in the future, but in many cases that is not required so the best way to vet your breeder is through their reputation and history as a breeder. Luckily in the age of social media this is easier than it used to be.
Many breeders will have websites that you can check out (which we link to from our site if possible) this is a good place to start checking out their operation. Of course someones own website will be biased so the next place to go is social media to see if anyone has talked about them or reviewed them. People love to share their new pet stories and brag about their breeder, or if they had a bad experience they will be vocal about it because these are living dogs that should be cared for.
Next if you find someone who had an experience with the breeder you are considering reach out to them via email or social media and ask for a personal account. This will really get you some great information to learn about the breeder you are considering getting a dog from.
If you are close enough to breeder the next step would be to visit their facilities and check out their operation. When we bought our dog we visited the breeders location a few times to see the other dogs and how they were being raised. It really helped us know our dog breeder was great.
If you are not close enough to visit pick up the phone and have a detailed conversation with the breeder about the location and conditions. Trust us, this will not annoy your breeder at all. In fact this will impress the better breeders because a good puppy breeder loves and cares for their dogs. They want to insure that the dogs they pass on will end up in good homes. Your diligence will show them the type of dog owner you will be.
Let's recap a few ideas to find a reputable dog breeder.
Check out their website.
Find social media reviews and accounts.
Talk to someone who has personally dealt with the breeder.
Arrange to visit where the dogs will be bred.
Have a conversation over the phone with the breeder.
Look at a few breeders if possible.
Finally after you have done those things remember that it is wise to consider a few different breeders. If you are looking to get an uncommon dog this may be a bit more difficult, but it is always worth checking out many. Even if it is further away from your location you may end up finding the perfect match for you.
At Dog Breeder USA, we want to help you make the right decision in picking a dog breeder that is best for your situation. We work to provide the name, location, phone number, business hours and website address. Some listings may be partial and some breeders do not provide everything we try to list. Use what information is available and hopefully that helps you in your journey.
Find A Dog Breeder By State Below
Should I look For A Licensed Dog Breeder?
In the majority of cases a license is not required to breed dogs. In some states if the breeder is breeding many litters or do a certain amount of money per year they may need a license. If you want to find a breeder that is state licensed that may limit you.
It is perfectly okay for people to breed dogs without a license in most situations. (If you do plan on breeding be sure to check the laws in your state. This is not legal advice. Please visit this site to get in depth information on licensing.)
What you want to look for in a breeder is someone that is reputable, which we discussed above in this article.
If you do find a dog breeder that is officially licensed that is great!
---
Should I Look For A Certified Dog Breeder?
Certified and Licensed differ. A license for dog breeding is issued through the state or at the federal level. A certification is done on a private level through trusted organizations or clubs.
A breeder can become accredited through a kennel club or an organization like AKC. This means that the breeder has taken steps to insure they meet the club or organizations standards. Finding certified breeders can bring peace of mind, but not all good breeders are certified through a group like this.
It is a huge plus to find a certified breeder, but don't count out breeders that are not certified. There are plenty of great ones out there.
When you find a certified breeder check into the group or organization that issued the certification. Many times this can lead to more opportunity to look into them in the ways we discussed above.
---
Finding Dog Breeder On Our Website
If you are simply looking for breeders in your area go ahead and find your city and see what breeders are listed near you. You will be able to see what types of dogs might be available or connect directly with the local breeders and see when the next litter is due.
If you are looking for a specific breed of dog you can try searching for that breed and see what breeders have them listed.
You may find that a breeder is not located in your area. This may not stop you from getting the puppy you want. Many breeders will deal long distance and you can still get the dog!
Look around the site and we hope we can connect you with the breeder to provide your new best friend, a dog!
It's a great way to make 1,000% or more on your investments. He came to Savannah with James Oglethorpe in 1733 and commanded a company of Marines charged with Georgia's coastal defense. You have showed your feet other times, maybe you like your feet very much but there are far more attactive female feet more. Prefer to remain stateside for now?
They have a hard time going through change, especially if it's something they've grown accustomed to. Their patience to show their true colors is unmatched. It seemed that he saw through me and said exactly what I wanted to hear https://astrozella.com/moon-in-5th-house/. True, there's always a bit of self-undoing in all Neptune men, but just "do him back up again," like you would a package that comes un­tied.
Some of the most popular Microgaming Quickfire titles at Caribic Casino are Immortal Romance, Life of Riches, Forbidden Throne, Shanghai Beauty, SuperWilds, Thunderstruck II, Mega Moolah, and Attack of the Zombies, to mention just a few. Canadian players can access all the best mobile casino games from a single account and play on the go. Read more Lucky Creek Casino is giving away 50 Free Spins on World at War No Deposit Bonus code: WAR50 https://mejorescasinosenlinea.org/dados/. The casino is brought to you by Apollo Entertainment, Limited incorporated in Malta and holds a license by the UK Gambling Commission.